Co-create a space that feels like home to you
With our qualified in-house interior designers, we provide a collaborative and supportive service to help you confidently create your dream interior spaces.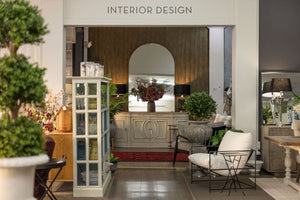 Find furniture you love, transform your home and bring interior ideas to life with the guidance of our experienced interior experts. You might have a vision in mind, or you might not know where to start. Either way, we're here to help you find the perfect styles, colours, textures and pieces to create cohesive interior spaces that make you fall in love with the home you live in.
Our service is tailored to you - your budget, your vision and the living space you have to work with. Whether you want to make a statement, or prioritise functionality, we provide pragmatic advice that ensures the objects that surround you are a true reflection of your tastes and lifestyle.
Our services
From seasonal freshen-ups to complete home transformations and new builds, our services can include:
- In-home consultations
- Free measure and quotes
- Made-to-measure curtains and blinds
- Bespoke upholstery, furniture, soft furnishings and accessories
- Colour consultations
- Spatial function and room arrangement
- Indoor and outdoor living solutions
- Styling
Meet our in-house interior designers
Jane
Jane loves textiles, pattern + colour. Unleashing her keen design eye, Jane switched careers from physio to interiors. After studying her Fine Arts degree at Wanganui UCol, Jane renovated her first home, a farm cottage. Many houses later, Jane's expertise + flair is evident across stylish, practical interiors of all looks + styles.

Key design tip:
Keep your rooms affordable by using simple, neutral fabrics on curtains + sofas. Introduce glamour with lavish accents, on chairs, lamps + cushions.
Viv
Born and raised in England - Viv's career in the Interior Design industry started in London as a Display Artist. Having won several National awards after moving to New Zealand in the early 80's it was a natural progression for Viv to transition from Window dressing to fabrics and drapery.

After 10+ years working in New Plymouth as an Interiors Designer, Viv moved to Europe to work as a tour guide based in Portugal for 5 years.

Viv's warm, welcoming personality shines through her design work as she loves working with clients to create harmonious spaces that reflect their personal style.



Key design tip:
- Create a warm and inviting atmosphere with lighting and drapery
- Make a room sing by emphasising your favourite pieces, such as artwork with complimentary fabrics and furniture using colour and texture!
Jeremy
A breath of fresh air! One of the many friendly faces you will see when you walk in the front door of our shop. Jeremy's personality shines when interacting with customers and creating beautiful shop displays.

Jeremy has lived in Wellington for most of his adult life, working within the fashion and interior design industries.

Jeremy knows the importance of listening to his clients to successfully create their dream spaces that enhances their personal style. Naturally Jeremy is drawn to Renaissance style. He has the ability to be interchangeable and embrace his customers ideas/style to make their vision come to life.

From interior colour schemes, fabrics or furniture selection to outdoor settings, Jeremy has the solution.

Key design tip:
There is no right or wrong with interior design – it's about what makes you happy at the end of the day!