The things that make a house a home
Bring ease, beauty and enjoyment to everyday living with our range of homewares, soft furnishings, wallpaper and curtains.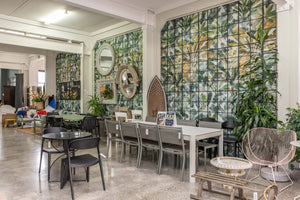 Create living spaces you love by adding personality, warmth, colour and style. Whether it's designer details or practical essentials, we have beautiful homewares and soft furnishings that make a statement in your favourite living spaces.
For interiors that leave an impression, we have an extensive range of on-trend wallpaper. Complete the look with curtains and blinds, adding privacy and warmth with effortless style. Cushions, homewares and all the details that make a difference; we can help you pull together a cohesive look that considers your tastes and lifestyle.
We believe that your home should be a reflection of who you are; a space that brings you peace, and one you're proud to share - so, surround yourself with objects that you love! View a selection of our range below, and experience our collection for yourself by visiting us in store. Our experienced team can help you select the perfect pieces for your home.